Stream Status
Radio ist auf Sendung.
Momentan gespieltes Stück: Sore In The Masterpiece - And Hell Followed

AAC+ Stream Status

Recently Played Tracks


Stream is on air / Stream ist auf Sendung.

Hörer momentan: 41 von maximal 60

Bitrate: 96 kbits/s


Zuhören / Listen



Sore In The Masterpiece - And Hell Followed
Hypnoz - Earth
W.O.S.P. - arrival at Mars station
Hybryds - For the Nameless One
Atrium Carceri - End Titles
Svartsinn - Lost In Reveries
Raison d'être - Dekay
THO-SO-AA - Dying Reveal
Ulf Söderberg - Tempel och katedral reser sig ur djupen
God Body Disconnect - Dreaming of Glaciers

Letztes aktives Forum Thema
New streaming provider / more slots soon
Dark Ambient Radio moves from Spacial to Viastreaming. Soon the slot number will be increased from 50 to 60 to overcome the weekend congestions.

Read more...

Phobos 6 on 17th of October in Wuppertal
Dark Ambient Radio -- as always -- recommends: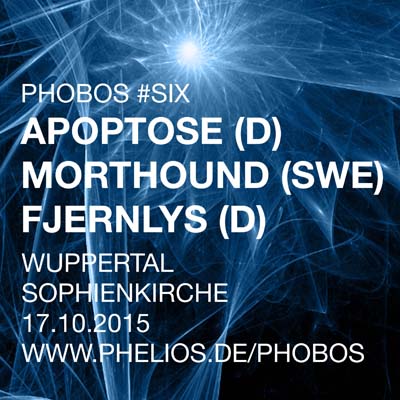 DAR Vol. 4 Manifesto
Work on the DAR Vol. 4 compilation has now officially commenced.

Deadline to join us is end of june.

Press 'Mehr Lesen' to read the manifesto.

Login
Noch kein Mitglied?
Klicke hier
um dich zu registrieren.
Passwort vergessen?
Fordere
Hier
ein neues an
DAR Compilation Vol. 4
Vol. 4 will be reserved for C3S artists. Estimated release not before 2016.

From the 30 projects that have expressed their interest, twelve have actually managed to register a user account till 30th of June (the deadline) and got access to the restricted forum area where we will brew the comp. (If I forgot one, please send me a message!). The projects are:

Angular Dreams
Argyre Planitia
CrepusculaR
Cyborg Project
Fatagaga
Hatch23
Horns
Morgen Wurde
[ówt krì]
Secret Druid Society
cym
Unsettled Dust

Find more information here.


Shoutbox
Du musst Dich einloggen, um eine Nachricht zu schreiben.
Shoutbox Archiv