Benutzer Online
Gäste Online: 1
Keine Mitglieder Online


Registrierte Mitglieder: 854

Neustes Mitglied: dystopianow
Stream Status
Radio ist auf Sendung.
Momentan gespieltes Stück:
Kirill Platonkin

- Rusty Daybreak

Kommentare zum Künstler/Projekt 'Kirill Platonkin'
Von DarkAmbient:
Many songs of this Russian musician are a bit too droney for my taste, but there is a selection of tracks now on DAR with a balanced sound more compatible with a dark ambient playlist. Enjoy!

Homepage http://kirillplatonkin.yolasite.com/
AAC+ Stream Status

Recently Played Tracks


Stream is on air / Stream ist auf Sendung.

Hörer momentan: 34 von maximal 60

Bitrate: 96 kbits/s


Zuhören / Listen



Kirill Platonkin - Rusty Daybreak
Shambala Networks - World made of Dark Matter
Pneumothorax - Metempsychose
Phragments - Into Nothing
Tear Ceremony - Prague Frequency
VANO I MK.2 - Rockers Unique Pt.II
Herbst9 - Mutum Kima Imbari Izannun Elisum
Hypnoz - Earth
Northaumt - A Silent Battle
W.O.S.P. - arrival at Mars station

Letztes aktives Forum Thema
Downtime
Sorry for the downtime. The broadcasting software crashed after the Spacial streaming server went offline.

Now you will only get DAR using the Viastreaming link:

http://s3.viastreaming.net:8835/listen.pls

The good thing is that databases like Shoutcast or Reciva might update the link soon.

New streaming provider / more slots soon
Dark Ambient Radio moves from Spacial to Viastreaming. Soon the slot number will be increased from 50 to 60 to overcome the weekend congestions.

Read more...

Phobos 6 on 17th of October in Wuppertal
Dark Ambient Radio -- as always -- recommends: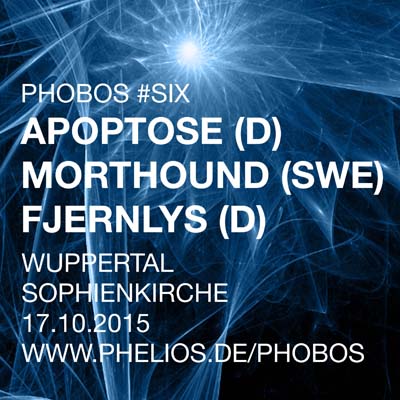 Login
Noch kein Mitglied?
Klicke hier
um dich zu registrieren.
Passwort vergessen?
Fordere
Hier
ein neues an
DAR Compilation Vol. 4
Vol. 4 will be reserved for C3S artists. Estimated release not before 2016.

From the 30 projects that have expressed their interest, twelve have actually managed to register a user account till 30th of June (the deadline) and got access to the restricted forum area where we will brew the comp. (If I forgot one, please send me a message!). The projects are:

Angular Dreams
Argyre Planitia
CrepusculaR
Cyborg Project
Fatagaga
Hatch23
Horns
Morgen Wurde
[ówt krì]
Secret Druid Society
cym
Unsettled Dust

Find more information here.


Shoutbox
Du musst Dich einloggen, um eine Nachricht zu schreiben.
Shoutbox Archiv