Benutzer Online
Gäste Online: 2
Keine Mitglieder Online


Registrierte Mitglieder: 853

Neustes Mitglied: Phantasmagon
Stream Status
Radio ist auf Sendung.
Momentan gespieltes Stück:
Synthetic Mind Decay

- Deception

Kommentare zum Künstler/Projekt 'Synthetic Mind Decay'
Von synthetic mind decay:
...
Von DarkAmbient:
Mike has deleted the artist info and shut down his web page. This regrettably seems to be the end of the project.

You can hear these four albums on this stream:

- Weight of the World (2006)
- Delusion (2007)
- The Lifting of the Veil (2007)
- Lost beyond Imagination (2008)
Von vile:
This is awful... and probably the best track submitted for the comp couldn't make it in DAR Vol. 2... At least we'll always have some SMD played on a regular basis here for our midnight sleep trips!
Von DarkAmbient:
Update:

For the last weeks I had an extensive review of SMD's complete back catalog as well as the new Album Time is your Enemy, But It Will Be Your Friend.

Thanks to archive.org, I added the seven remaining releases to the playlist except Forever Rain from Lifting of the Veil, Sufffocation from The Evolving Path of Life, and the Metric Fuck Tune from Time is.

Notice that Mike also has a space ambient project called The Ghost of an Alien.
Von The Large:
Is "synthetic" an attribute to just "mind" or "mind decay"? Think about that, people...
AAC+ Stream Status

Recently Played Tracks


Stream is on air / Stream ist auf Sendung.

Hörer momentan: 23 von maximal 60

Bitrate: 96 kbits/s


Zuhören / Listen



Synthetic Mind Decay - Deception
The Large - Tantalizing
M.O.P.M. / Klangwerk-Industrie - Rebirth
Aghast - Enter Hall of Ice
Secret Druid Society - Premonition
Nagual Art - Mondwinter
Svartsinn - No Passage To The Innermost...
Inade - Impulse
Aarktica - Corpse Reviver No. 2
Ad Lucem Tenebratum - Mahn' Pupunyor (part 1)

Letztes aktives Forum Thema
New streaming provider / more slots soon
Dark Ambient Radio moves from Spacial to Viastreaming. Soon the slot number will be increased from 50 to 60 to overcome the weekend congestions.

Read more...

Phobos 6 on 17th of October in Wuppertal
Dark Ambient Radio -- as always -- recommends: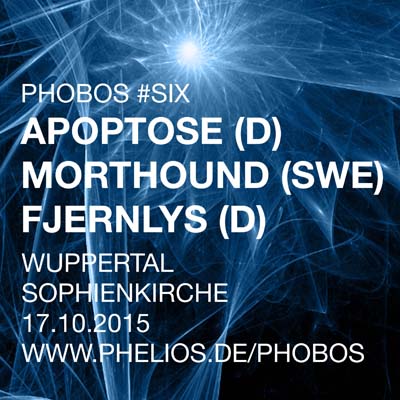 DAR Vol. 4 Manifesto
Work on the DAR Vol. 4 compilation has now officially commenced.

Deadline to join us is end of june.

Press 'Mehr Lesen' to read the manifesto.

Login
Noch kein Mitglied?
Klicke hier
um dich zu registrieren.
Passwort vergessen?
Fordere
Hier
ein neues an
DAR Compilation Vol. 4
Vol. 4 will be reserved for C3S artists. Estimated release not before 2016.

From the 30 projects that have expressed their interest, twelve have actually managed to register a user account till 30th of June (the deadline) and got access to the restricted forum area where we will brew the comp. (If I forgot one, please send me a message!). The projects are:

Angular Dreams
Argyre Planitia
CrepusculaR
Cyborg Project
Fatagaga
Hatch23
Horns
Morgen Wurde
[ówt krì]
Secret Druid Society
cym
Unsettled Dust

Find more information here.


Shoutbox
Du musst Dich einloggen, um eine Nachricht zu schreiben.
Shoutbox Archiv