Benutzer Online
Gäste Online: 1
Keine Mitglieder Online


Registrierte Mitglieder: 901

Neustes Mitglied: Benson
Vol.2 on MySpace
Sound samples of the new Dark Ambient Radio Volume 2 can be found on our MySpace page .

Dark Ambient Radio Vol. 2 Release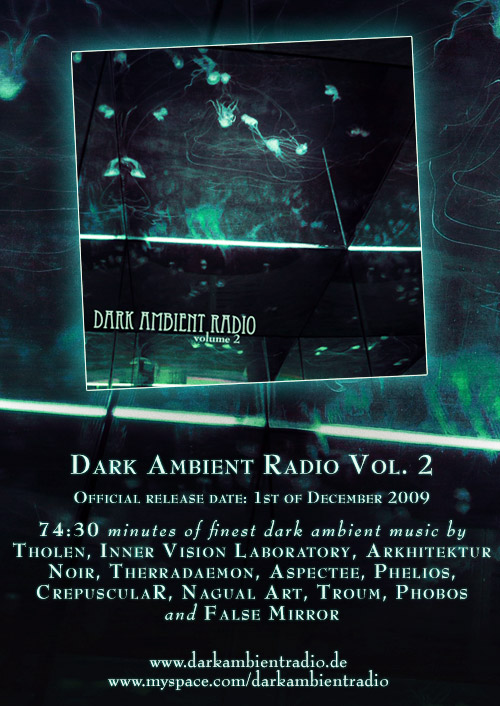 Thanks for all who supported us so far by pre-ordering the CD! Klick 'Mehr Lesen' for general ordering information.



Dank an alle, die und bis jetzt mit einer Vorbestellung unterstützt haben! Klicke auf 'Mehr Lesen' für allgemeine Bestellinformationen.

Dark Ambient Radio Vol. 2 Tracklist
From the 26 submissions 11 have been appointed to be part of DAR Vol.2:

Tholen - Nightly Spirits Rise And Shine
Nagual Art - Mattoon
False Mirror - Invisible Fear
Inner Vision Laboratory - Ashes of Perfection
Phelios - still untitled
Aaspectee - Poudure
Troum - Pina
Phobos - Succubi
Arkhitektur Noir - Aula Sancta
CrepusculaR - Inconceivable Unknown
THERRADAEMON - ET ARR AV LYS

Production of the CD is expected to be finished in November.

Login
Noch kein Mitglied?
Klicke hier
um dich zu registrieren.
Passwort vergessen?
Fordere
Hier
ein neues an
Shoutbox
Du musst Dich einloggen, um eine Nachricht zu schreiben.
Shoutbox Archiv